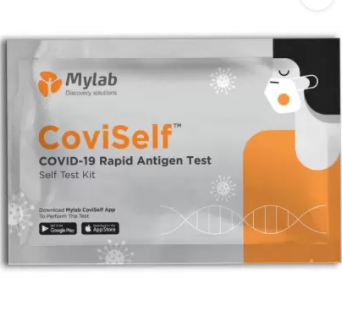 Biotechnology company MyLab Discovery Solutions on Thursday announced the commercial launch of its ICMR approved C-19 self-test kit called CoviSelf.
Priced at priced Rs 250 each, the kit can detect positive results in just 15 mins said the Pune-based company.
The company will roll out 1 million kits starting today which will be available for retail purchase within 2-3 days. The company aims to produce 7 million units, per week based on market demand.
The company stated that the kit will be distributed to 95% of the PIN codes in the county and will be available over-the-counter at pharmacies, drug stores and e-commerce platform, Flipkart. The company also plans to make the product available on the Government e-marketplace (GEM).
"Self-testing should slow down the spread of C-19 significantly. We aim to make CoviSelf available across the length and breadth of the country, especially for the people residing in rural areas who have limited options for testing," said Hasmukh Rawal, Managing Director of Mylab Discovery Solutions.
Sun Pharma, Ferring Pharma sign agreement to launch CARITEC in India
Glenmark launches drug for the treatment of seizures
Celon launches an emulsion-based drug to treat Black Fungus
JB Chemicals launches medicated Nicotine lozenges: Quit smoking
Merck launches synthetic cholesterol product
BDR Pharma launches generic Rucaparib
Green signal: Moderna vaccines may soon be available in India
Drug alert: 23 out of 931 samples declared as NSQ in…
Govt issues operational guidelines for Pharma PLI scheme
USFDA accepts application from Lupin for Pegfilgrastim Biosimilar
Sun Pharma, Ferring Pharma sign agreement to launch CARITEC in India
Glenmark launches drug for the treatment of seizures
Subscribe for daily free updates on Telegram
Follow us on Facebook and Linkedin
For daily free updates on WhatsApp, click here