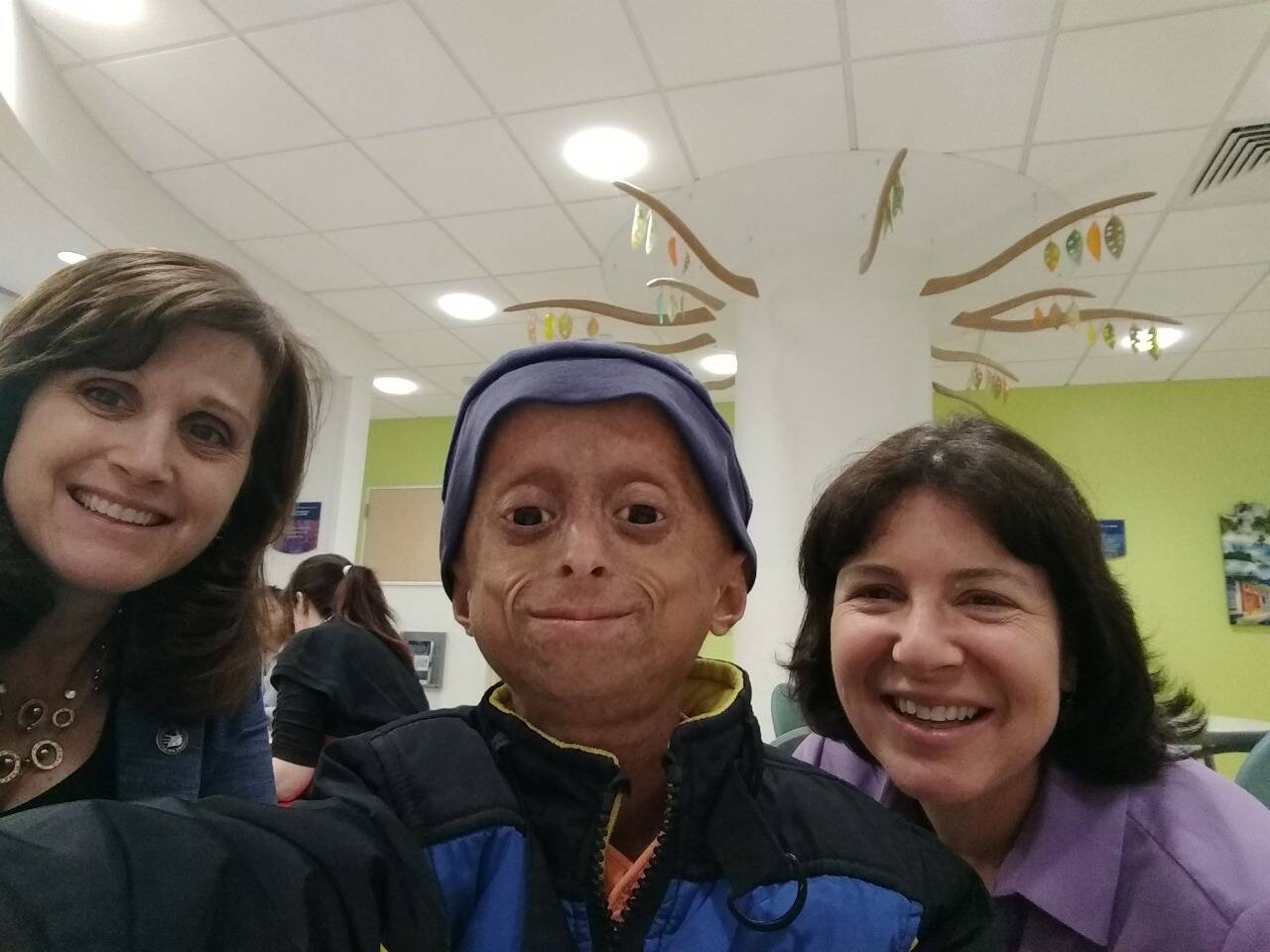 The Progeria Research Foundation (PRF) is the only organization in the world dedicated to discovering treatments and the cure for children with Progeria. PRF is a non-profit that was founded in 1999 at a time when there were no resources for children with Progeria. Since then, they have soared from total obscurity, to gene finding, to the first Progeria clinical trials, and are now on the verge of the first medicine to treat Progeria.
Hutchinson-Gilford Progeria Syndrome "Progeria" or "HGPS" is a rare, fatal genetic condition characterized by an appearance of accelerated aging in children. Progeria affects approximately 1 in 20 million people. There are an estimated 350-400 children living with Progeria worldwide and approximately 200 children remain undiagnosed.
About 60 of the unknown children live in India- untreated and in need of help. Of those 60, there are 18 children currently identified in India. PRF is searching for the unidentified children in India so that they can provide help through their programs. PRF's International Patient Registry, Diagnostics Program, and Clinical Care Handbook are available at no cost.
Also read: USFDA's relaxation in inspections for Indian pharma
Is Progeria curable?

Progeria clinical drug trials are the best hope for children with Progeria, testing potential treatments that may enable them to live longer, healthier lives. These trials are the culmination of years of research focused on what drug or combination of drugs will treat and cure the children. Since 2007, PRF has conducted clinical trials that administered Lonafarnib to children with Progeria.
PRF has been responsible for all trial expenses, including identifying and testing these children, their travel to Boston Children's Hospital, food, lodging, translators and staff. The clinical trials have included children from dozens of countries, including India. Lonafarnib is the first-ever treatment for Progeria, improving heart disease and extending lifespan.
What is Managed Access Program (MAP)?

Now, for the first time, children can receive the drug lonafarnib locally in India, without traveling to the United States for the clinical trial. PRF is working closely with Eiger Biopharmaceuticals the drug company that makes lonafarnib Eiger has launched the lonafarnib Managed Access Program (MAP) that allows eligible children and young adults with Progeria to obtain the drug lonafarnib before it is approved for commercial sale.
The lonafarnib MAP is therefore the only means of getting access to the drug in India for treating Progeria. This treatment will be made available through the child's local physician. Any parent who wishes to enroll their child in this program must have a doctor in India caring for their child, and a child can only be registered for the MAP by his/her treating doctor. A child with Progeria from Yavatmal district of Maharashtra is the first to be enrolled for the MAP.
MAP will help more children suffering from Progeria in India get treatment locally. If you know any child who may have Progeria, kindly drop a mail to [email protected] or If you are a doctor and wish to register for the MAP, kindly drop a mail to [email protected]
The Health Master is now on Telegram. For latest update on health and Pharmaceuticals, subscribe to The Health Master on Telegram.