VIJAYAWADA: A special investigation team (SIT) of AP police on Tuesday arrested 10 persons for running a fake sanitiser racket that killed 16 liquor addicts who drank it in Kurichedu village of Prakasam district in Andhra Pradesh recently. The spurious sanitiser was manufactured in Hyderabad.
The arrested include Sale Srinivas, a class 6 dropout and main accused, his brother Sale Siva Kumar, Kesav Agarwal, Mohammed Dawood and Mohammed Hazi Sab, all from Hyderabad. Srinivas, who used to sell paint removers, took to sanitiser manufacturing to make quick money during the pandemic. The other five arrested were medical shop owners in AP.
Also read: Plasma Therapy becoming success: SDC FDA Haryana
Addressing a press conference, Prakasam SP Siddharth Kaushal said the SIT collected 69 sanitiser bottles of eight brands from scenes of crime in the village and began tracing addresses of manufacturers. One of the brands, Perfect Gold, had no batch number. When officials went to the addresses found on the labels (Bengaluru and Hyderabad) they did not find the manufacturing units. Instead, another company called Vandana Forma was found to be operating there.
An online search helped SIT locate Perfect Gold brand sanitiser unit at Prashasannagar in Hyderabad where large stocks were found.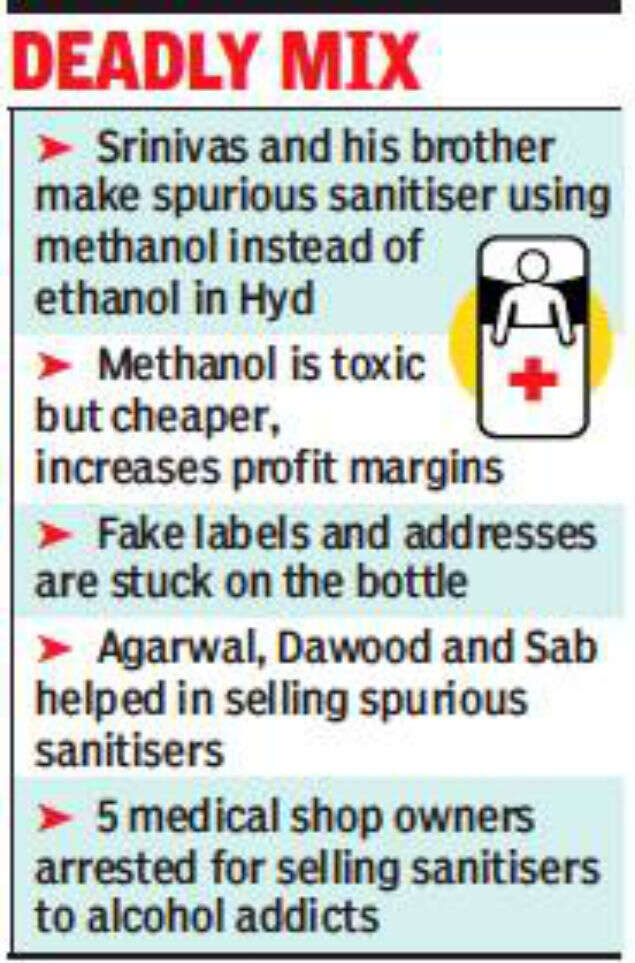 "Main accused Srinivas worked at a local petrol bunk selling paint removers. He has no knowledge about chemicals or sanitisers. He is a class 6 dropout," Kaushal said, adding that he took the help of two persons who advised him to make a sanitiser using methanol, which is cheaper than ethanol, for higher profits.
They found that Vimal Agarwal sold 200 bottles to Yasmin Delawala, a seller of masks at Basheerbagh in Hyderabad, who in turn sold the stock to Kuvvarapu Vikram Dharma of Darsi in Prakasam.
The Health Master is now on Telegram. For latest update on health and Pharmaceuticals, subscribe to The Health Master on Telegram.