Last Updated on January 12, 2021 by The Health Master
HYDERABAD: After receiving emergency use authorisation (EUA) approval for indigenous C-19 vaccine Covaxin, Bharat Biotech has now applied to the country's drug regulator for permission to conduct phase I and II trials of its intranasal vaccine candidate. It has been codenamed BBV154.
The candidate, being developed in collaboration with the University of Washington School of Medicine at St Louis (WashU), is a single-dose vaccine that is slated to be a gamechanger for C-19 vaccination rollouts.
Bharat Biotech has said its administration would require only two drops each in each nostril.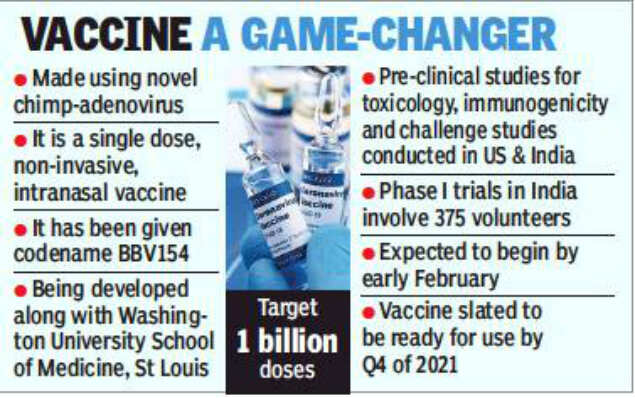 Sources said the company expects the trials to start by early February and has proposed phase I trials on around 375 volunteers.
---
Also read | ED court summons directors of these Pharma Companies
---
This is similar to Covaxin phase I trials, but at a smaller number of sites – five to six instead of the 11 involved in Covaxin.
Bharat Biotech told that for BBV154 "pre-clinical testing has been completed for toxicology, immunogenicity and challenge studies".
Bharat Biotech chairman and managing director Dr Krishna Ella is more gung-ho about the intranasal vaccine than Covaxin due to the multiple advantages it offers – it is a non-invasive, single dose vaccine that is quicker and easier to administer.
Terming the nasal vaccine as "potent", Ella said that it will be better than any injectable vaccine, including Covaxin. "…the nasal vaccine will protect mucosal immunity, knock off the virus as soon as it enters and will stop transmission," he had said on Monday.
"The nasal vaccine is the best choice because C-19 also goes through the nose and you need mucosal immunity, which produces IgA (immunoglobulin A) response which is a more potent immune response.
This is key from a future point of view," he had said in late December during a lecture organised by the Telangana Academy of Sciences.
---
The Health Master is now on Telegram. For latest update on health and Pharmaceuticals, subscribe to The Health Master on Telegram.
Follow and connect with us on Facebook and Linkedin
Go to main website, click here
Subscribe for daily free updates, click here