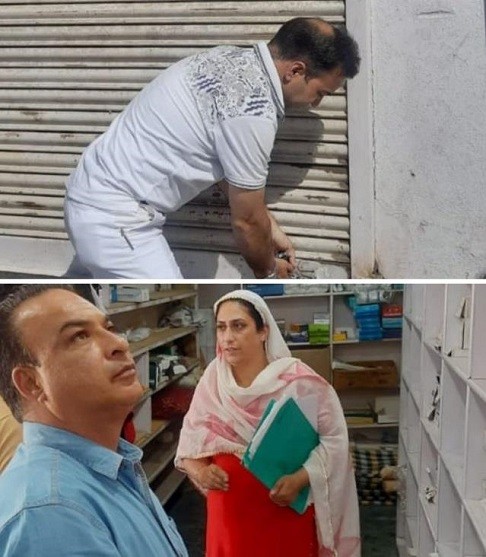 Last Updated on September 29, 2022 by The Health Master
SRINAGAR: On the directions of Deputy Commissioner (DC) Srinagar, Mohammad Aijaz Asad, a team of the Drug Control Department Jammu & Kashmir (J&K) undertook a special drive to inspect the Pharma Dealers and medical stores in various parts of Srinagar City to ensure that pharmaceutical preparations are being sold in consonance with the prescriptions being generated by Registered Medical Practitioners.
The inspection teams of Zone Drug Controllers headed by Deputy Drugs Controller Nighat Jabeen inspected various markets in the Bemina area to ascertain the implementation of the Drugs and Cosmetics Act.
During this inspection drives, inspecting teams observed that some of the medical stores and pharma dealers were found violating the provisions of the Act, and operations of 3 Medical stores were disallowed u/s 22 (d) of Drugs & Cosmetics Act, 1940, while 3 other establishments were served show cause notice.
The Deputy Drug Controller also directed all the authorized stockists dealing with such kinds of formulations to strictly restrict the sale and distribution of the aforementioned restricted drugs for legitimate requirements only.
They were further directed to submit distribution details of formulations comprising of habit forming ingredients on monthly basis through designated mail, so that the concerned Drugs Control Officers shall check the rationality and curb the unethical trade of such drugs, failing which severe action under law shall be taken against such erring firms.
Meanwhile, Deputy Commissioner Srinagar of FDA J&K has given a clear message that the District Administration has adopted zero tolerance toward addiction and advised all the stakeholders to play their role in making District Srinagar addiction free.
The DC has also emphasized that drugs of choice for patients suffering from severe/critical disease in their pain management have a high potential for addiction and respiratory depression when misused and taken in high doses, so stakeholders are impressed to ensure judicious use of such formulations and maintain complete records open.
The DC further asked all Pharma/Chemist establishments operating in Srinagar to adhere to the laid down norms strictly and warned the defaulters to desist from any unethical trade practices, failing which strict action as warranted under the Act shall be taken against them.
Procedure to obtain license for Medical Store / Pharmacy
How to start Jan Aushadhi Store: Procedure
Self audit of Medical Store :105 points
Record keeping for Medical Store / Pharmacy
How to change Pharmacist at Medical Store
Good storage practice of medicines at Medical Store
FAQs – on Medical Store / Pharmacy (Retail sale or Wholesale)
Difference between Sanitizer and Disinfectant
FAQs on Sanitizer, N95 Mask & Digital Thermometer
FAQs – On 'Good Night', 'All Out', 'Hit' and 'Harpic'…
FAQs – on Disinfectants (Part-2)
IPGA Tamil Nadu Branch Celebrates World Pharmacists Day
Changing the Regulations for Class A Medical Devices and its Impact
Govt plan to ban Codeine based cough syrups opposed by Pharma companies
Cancer medicines may get cheaper
CDSCO Panel gives nod for FDC Bempedoic Acid Plus Atorvastatin Calcium
Pharmacists – The Doctors behind the screens
High Court quashes four demand notices of NPPA on overcharging
Supreme Court: Should AYUSH practitioners conduct surgeries ?
Separate Export Promotion Council for Medical Devices soon
Latest Notifications regarding Pharmaceuticals
For informative videos on Medical Store / Pharmacy, click on the below YouTube icon:
For informative videos on the news regarding Pharma / Medical Devices / Cosmetics / Homoeopathy etc., click on the below YouTube icon:
For informative videos by The Health Master, click on the below YouTube icon:
For informative videos on Medical Store / Pharmacy, click on the below YouTube icon:
For informative videos on the news regarding Pharma / Medical Devices / Cosmetics / Homoeopathy etc., click on the below YouTube icon:
For informative videos on consumer awareness, click on the below YouTube icon: